A Ceremony of Tribute at Tsitsernakaberd Memorial Complex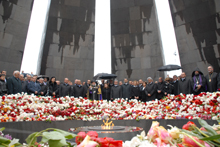 April 24, 2010
The year 2010 is the 95th Anniversary of the Armenian Genocide. Every year on April 24 hundred thousands from Armenia and Diaspora, representatives of the foreign diplomatic missions and visitors march to Tsitsernakaberd Memorial to remember innocent victims of Armenian Genocide.
President of Republic of Armenia Serzh Sargsyan, Prime Minister Tigran Sargsyan, the Supreme Patriarch of all Armenians His Holiness Garegin II, members of parliament and government of Armenia one of the first paid tribute and lay flowers at the Eternal fire. His Holiness Garegin II, Catholicos of All Armenians conducted a special church service for the repose of the victims' souls.
The President of Armenia and representatives of the Armenian government visited also the temporary exhibition "The Armenian Genocide: Frontpage Coverage" opened in the Genocide museum.
The human flow towards Eternal Fire does not stop.